Description: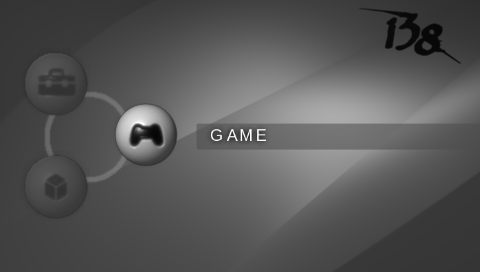 138Menu by GBOT
Release Date: Sun Jun 30, 2013
Video:
Notes for this version:
138Menu
A new menu created by GBOT with an innovative circular interface, nice looking graphics and flexibility in configuration.
FEATURES
Circular interface Multi-language (English, Spanish, French and German) Easy homebrew managing (Installing/Deleting) Various performance options Various easy-to-use file system settings Custom background image use Low size menu  
CONTROLS
While in main menu: DPAD/Rtrigger/Ltrigger: Roll circle (Change category) CROSS: Enter submenu While in sub-menu: Rtrigger/Ltrigger: Roll circle (Change category) UP/DOWN: Navigate CROSS: Excecute/Install TRIANGLE: Delete CIRCLE: Go back
INSTALLATION
Copy EBOOT.PBP, DATA.138, LTN9.PGF and 138CFG.TXT to your exploit savedata folder and transfer using CMA
HOMEBREW FILES
Homebrew names compatible by default are wmenu.bin, VBOOT.PBP and FBOOT.PBP. You can also configure a custom name, check the config file part. The menu will automatically search in ms0:/PSP/GAME/ (for 2.10-) and the path specified in the config file.
INSTALLER FILES
There must be a savedata folder for every install package, following this format: ms0:/PSP/SAVEDATA/Name1/INSTALL.ZIP ms0:/PSP/SAVEDATA/Name2/INSTALL.ZIP ms0:/PSP/SAVEDATA/Name3/INSTALL.ZIP (Not necessary to call the folders 'Name')   Installer file zip structure must be INSTALL.ZIP/Name/EBOOT.PBP compressed in STORE mode, invalid or compressed files will be skiped.   * IMPORTANT: About the installer deleting method, it will delete completely the installer folder; if you put a INSTALL.ZIP file in your exploit folder it will be detected and the menu will only delete the INSTALL.ZIP file, leaving the rest of the files safe.
CONFIG FILE   Needed by the menu, if it doesn't exist or is corrupt then a default config will be generated, read INFO-138.txt to get more info
CUSTOM BACKGROUND   If you wish to use your own custom background, just put it in the menu folder and rename it to WALL.PNG, if no custom background is found then the default background will be loaded.
NOTES  
Download/Redirect:
Download from Wololo.Net:
(indirect link) to Wololo.Net
Post views:
(8900)
DJGodman.com is not responsible for the content hosted on indirect links.